03.06.17
Grijalva Annotates GOP Interior Department Budget Views, Highlights Bishop's $50 Million Demand to Cover Costs of His Land Giveaways
Washington, D.C. – Ranking Member Raúl M. Grijalva (D-Ariz.) today highlighted Chairman Rob Bishop's (R-Utah) $50 million budget demand, in the formal Republican "views and estimates" on the fiscal year 2018 budget, to make up for lost revenue from his plan to give away federal land. Bishop's demand marks the latest in a string of efforts to get others to take responsibility for the costs and likely legal struggles of his anti-public lands campaign.
Under Congressional Budget Office accounting rules, Congress must make up the cost of transferring ownership of federal land that generates revenue through mining, drilling, logging, grazing or other activities. Bishop and Committee Republicans approved a new rules package earlier this year allowing the Committee to ignore that requirement, saying land giveaways "shall not be considered as providing new budget authority, decreasing revenues, increasing mandatory spending, or increasing outlays."
Despite that rules change, Bishop in his new "views and estimates" document requests a $50 million earmark to cover the anticipated costs of the federal land giveaways he intends to pursue during this Congress.
In a recent op-ed in the Salt Lake Tribune, Grijalva pointed out that Bishop has spent years avoiding responsibility for his public lands proposals. Rather than introducing a bill to revoke national monument status for Bears Ears National Monument, for example, Bishop has urged the Trump administration to revoke it unilaterally using the Antiquities Act – a law that does not provide the White House with any such authority. Grijalva said today that asking taxpayers to cover the costs of his land giveaways while allowing the Committee he chairs to pretend such costs don't exist shows that Bishop knows his anti-public lands positions are unpopular and unworkable.
Grijalva today also released an annotated version of the introduction to the Republican "views and estimates" document, which corrects its misrepresentations and adds needed context. For instance, where the Republican original states, "America's federal lands and domestic resources can, if managed wisely, support vibrant economic growth and provide solutions to our nation's growing structural budget crisis," Grijalva edits it to point out, "America's federal lands and domestic resources already support vibrant economic growth. . ." Grijalva notes that in fiscal year 2015, Interior Department activities supported 1.8 million jobs, contributed a total of $167 billion in value added and $296.1 billion in economic output.
The full annotation is available below.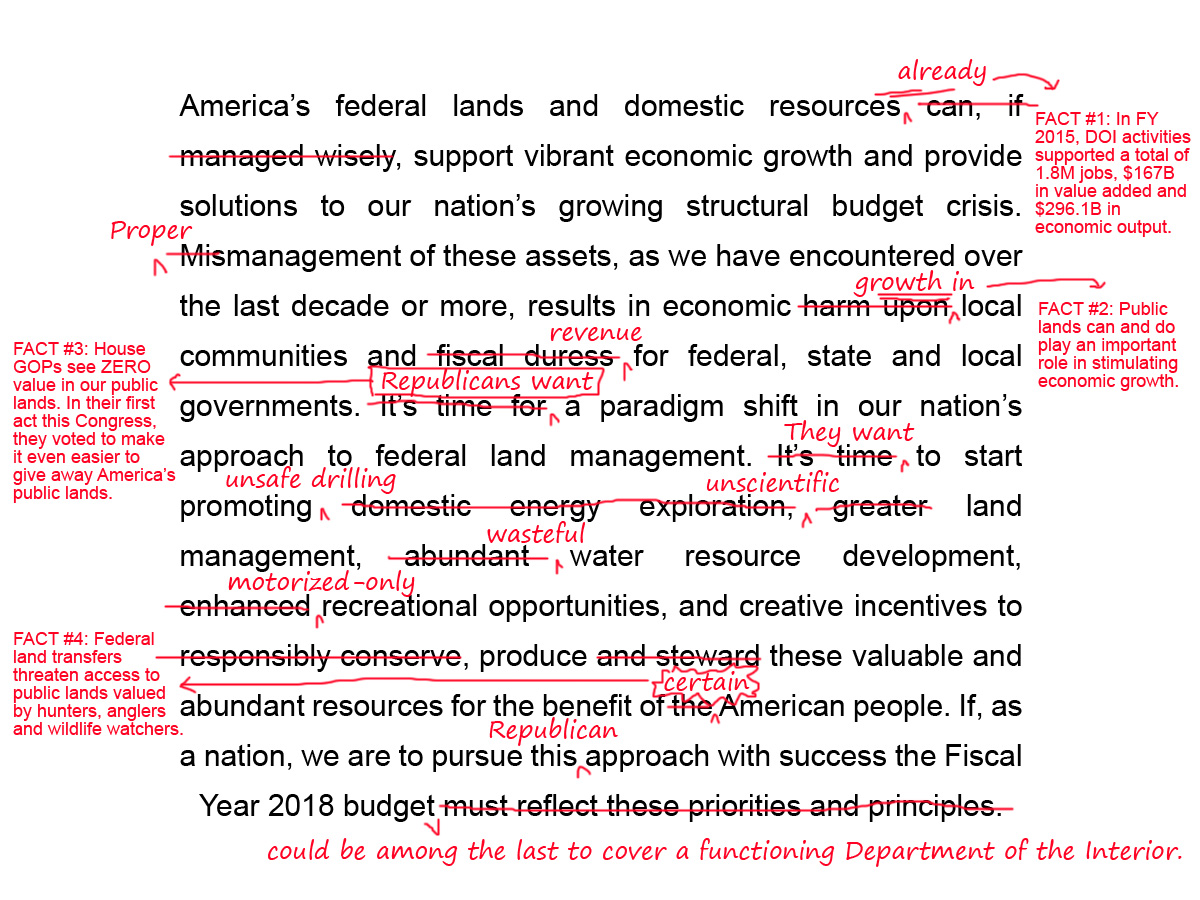 Source
Fact #1: https://my.usgs.gov/doidv/index.html
Fact #2: https://headwaterseconomics.org/wp-content/uploads/Protected_Lands_Economics.pdf
Fact #3: https://democrats-naturalresources.house.gov/media/press-releases/grijalva-pushes-back-on-gop-proposal-to-make-it-even-easier-to-give-away-americas-public-lands
Fact #4: http://sportsmensaccess.org/wp-content/uploads/2015/01/Locked-Out-Report-Sportsmens-Access.pdf
Conservation Group Support
Press Contact
Diane Padilla
(202) 225-6065 or (202) 306-1333
---
---
Next Article
Previous Article