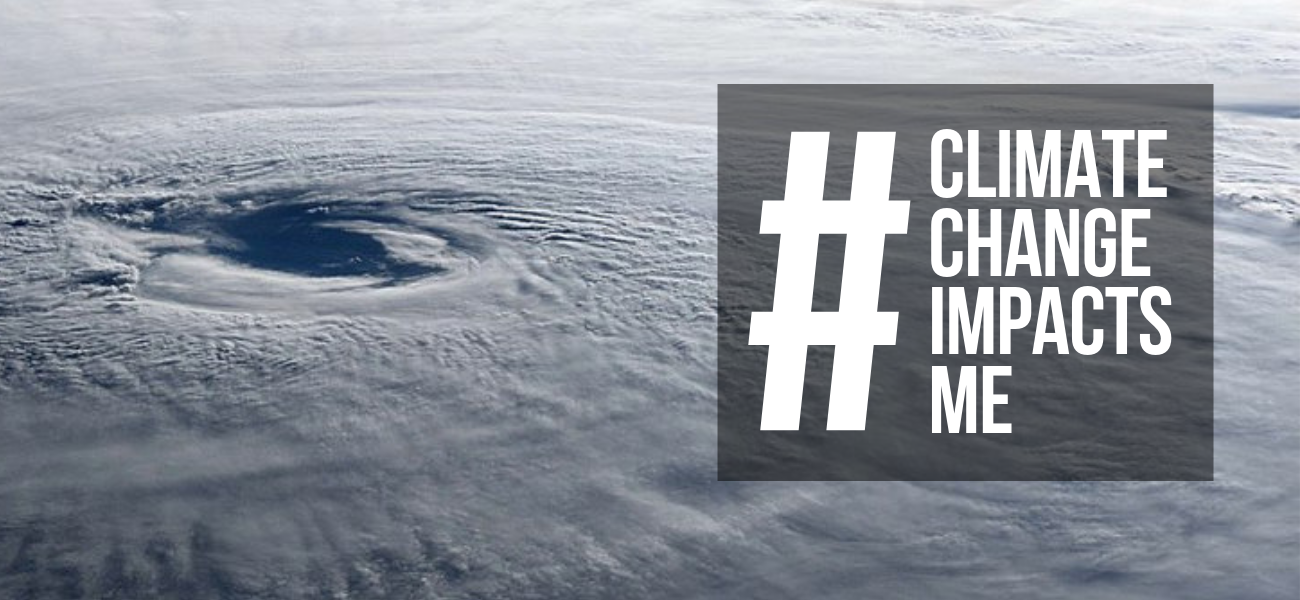 Climate Change Impacts Americans. Here's how.
Carol from Washington
Seattle had an especially dry summer in 2018. I needed to water my landscaping to keep it alive. We are dependent on snow pack in the Cascade mountain range to supply our water and that is becoming less reliable with increasingly warm, dry weather. This has increased the cost of water. Our city has grown rapidly, increasing property values along with the cost of living here, including utilities and taxes. I am now retired and living on Social Security, so I am feeling the economic impacts of climate change. More importantly I am deeply concerned about the environmental damage being done and the dangers of rising sea levels and more violent storms. I have made an effort to reduce my carbon footprint, eg. given up my car, kept the thermostat at 64 degrees, and eating little meat because I feel a moral responsibility to do what I can and know that every one of us must take action now to save life on this beautiful planet. Climate change must be a global priority issue. Thank you for making this a national priority.
Karl from Oregon
I live about 200 feet from the Pacific Ocean at about 40 feet elevation. In the big storms of winter we get water and foam in our yard. It occasionally blows big logs up around the houses in the community. Now, with rising sea levels, the shore line is moving inland. One small scenic vista at a nearby resort has lost about 100 feet in the last 20 years. Several houses in the area have been lost to rising sea waters. And, on top of all this, the coastal waters are becoming more dangerous. We lose about one visitor per month to the waves and slippery rocks in Lincoln County, and another to suicide by motel, and others to broken boats, failed diving equipment and bad roads caused by higher water levels.
Candace from New Mexico
The wildfires here in New Mexico, in Colorado, and in California have had a big impact on my family over the past few years. The 416 fire in Durango came within a half mile of property that we own there, as we watched it advance from afar. In southern California, my sister and one niece who live in the Oxnard County have had to evacuate from their homes multiple times over the past few years, and my son who lives in the Bay area, suffered the ill effects of smoke from the Carr fire nearby. And when we had our family reunion in Lake Tahoe, the lake could barely be seen because of smoke that had blown across the state. My husband and granddaughter suffer from asthma, and so this is a big health issue for them. And one of the reasons we love living in Albuquerque is the chance to go out and hike in the Sandias, but increasingly hiking trails have been closed due to increased fire danger. I fear greatly that New Mexico will eventually become uninhabitable due to drought and loss of vegetation.
Amy from Massachusetts
As an emergency medicine physician I am seeing climate change and extreme weather impact the health of my patients and health care delivery. Emergency medicine is a specialty that cares for vulnerable patients, who are disproportionately impacted by climate change, and patients who are impacted by disasters, such as an extreme weather event. I am seeing more patients, especially elderly patients, those with chronic medical conditions and the homeless, present with heat related illnesses. In addition, I am seeing more patients with tick-borne illnesses, asthma and seasonal allergies. I am also seeing climate refugees, such as an elderly Puerto Rican female who presented to my Boston area emergency directly from the airport soon after Hurricane Maria seeking care for recently diagnosed lymphoma, prescriptions for all her medications and a psychiatric referral. I saw many displaced patients present to our ED after Hurricane Katrina. My patients have also impacted by supply chain disruptions related to extreme weather events, such as lack of availability of normal saline IV bags, after the manufacturing facility was destroyed during Hurricane Maria. In addition, there were shortages of essential pharmaceuticals, needed by my patients. Personally my family has been effected by extreme weather. Many of my family members, some who have asthma, were forced to leave the San Francisco area after the horrific Camp Fire. Another brother and his family had to leave their home in NY and stay with us when they were without electricity for days after Hurricane Sandy. Finally, climate change impacts me personally as it is causing great anxiety, worry and anger. I worry on a daily basis about the climate crisis and the kind of world my son, nieces and nephews are going to live in and the inevitable challenges they are going to face.
George from California
Climate change has altered very fundamental aspects of life in Southern Ca. In 2005 we began to see Coast live Oaks "bleeding" sap, crowns dying and limbs falling.This was attributed to Sudden Oak Death (SOD), something Southern CA had ever experienced. While this may sound petty, Coast Live Oaks are a cornerstone species which serve some 600 plants and animals, including mountain lions, great horned owls and all species of raptors. Losing these trees "crashes" an ecosystem. Again, in 2007, following the highly destructive Witch Fire, Oaks again were falling. This time due to a pest that had never previously been found in San Diego, only Arizona. This was the goldspotted oak borer which put thousands of additional trees and forests at risk of destruction.
Brian from California
My California Central Coast region's creeks and rivers are running dry from unprecedented drought. Southern California steelhead are going extinct. Last year only 7 adult steelhead were seen in southern California. National Marine Fisheries Service calls southern Cal steelhead "one of the most endangered fish in America." That was in 2012 before the current severe drought. Days are getting hotter. We now have days that reach over 90 degrees in winter. When I was a boy in the 1970s in coastal Santa Barbara, summertime highs averaged low to mid 70s. Now I believe the average in summer is in the 80 degrees. Finally, my homeowners insurance skyrocketed this year by 16% after never increasing by more than 4% during the previous many years. And because California Earthquake Authority insurance tracks homeowners insurance premiums, my earthquake insurance also went up substantially. I have no doubt that this increase is due to the many terrible climate change-induced fires, floods, and debris flows in California.
Martin from New Mexico
You asked for climate change stories, so here is mine. I have lived in New Mexico since I was 4 years old and I turn 67 this year. The changes that concern me the most are on our public lands and waters. Forest fires have allowed silt and ash to flood several lakes where I took my children fishing – Fenton Lake and Bonito Lake are examples. Drought results in low oxygen levels in many lakes, Ramah Lake among them. My grandson caught his first fish at Ramah, but within a couple years when we went there the lake was lined with dead fish killed by low oxygen levels. Drought also resulted in Golden Algae killing one of the top lakes for rainbow trout – McAllister. With out enough water flowing through the lake to flush the algae, the water was toxic and the fish died. I went there with my sons, but it won't recover during what is left of my lifetime. I am also concerned about the impact climate change is having on our birds. Band-tailed pigeons once flocked by the thousands, but their populations have declined significantly. Prairie chickens have been reduced on the east side of our state, drought and land management having the biggest impacts. Sage grouse once occurred near Tres Piedras and San Cristobal (near Questa), but they are gone. I never saw one, and to do that I will have to travel to Gunnison, CO., to get a glimpse of these grouse but Donald Trump's Interior Department scraped years of cooperate efforts to save this species. I have seen the ponderosa pines dying from the Lincoln National Forest to the Jemez Mountains, probably due to drought. The fir and spruce forests near Red River are dying due to insects which once were reduced by fires, and aspens need fires to regenerate. But our forests are so packed with fuel we can't let the fires burn naturally in this day and age. My kids and grand kids are facing a vastly different environment than I did in 1956 when my family moved to New Mexico. It makes me sad to think the state they inherit will be more desert and less forest.
Victoria from Ohio
I live in Northeast Ohio. The impacts of climate change that I have felt have been less dramatic than those in places like California or Florida, but they are real and significant nonetheless. I want to first address the environmental impacts that I have experienced from climate change in my part of the world, and then I want to address the emotional impacts I have witnessed and experienced. There are two direct ecological impacts that I have experienced from climate change. The first is the increasing scale and frequency of massive algae blooms on Lake Erie. The toxic algae blooms that we experience in Lake Erie are exacerbated by 1) the extended warm season, 2) the warmer summer temperatures, and 3) the increased intensity of rain events that then cause more runoff containing fertilizers and sewage overflow into Lake Erie. All three of these intensifiers can be linked to climate change. The result is water that is dangerous to swim in, that is hurting our fishing industry, and that can present a risk to our city's water supply. The second direct ecological impact that I want to address is the threats to our regions forests. My family has owned the same piece of land in Geauga County for a century. This land, not far from the Holden Arboretum (one of the nation's best arboretums), has a healthy mixed hardwood forest covering much of it. In the most spectacular places on the land, deep ravines cut through shale with hemlocks holding the banks in place. The forests are magical. But we are losing them to invasive species. Some of these are not linked to climate change directly, but others, like the woolly adelgid, which attacks the hemlocks, are. Woolly adelgid infestations kill hemlock trees. The hemlocks on the Arboretum's property directly adjacent to our land have been infested with these insects. It is only a matter of time before they hit our trees (they probably already have, but we don't know it yet because initially they are invisible to the naked eye). The warming climate makes these trees more vulnerable to these infestations because the trees, which are already living at the southern edge of their range, become stressed by the warmer temperatures and thus less able to survive an infestation. Additionally, the milder winters tend to be followed by more intense infestations of the insect, putting additional pressure on the trees. We have already lost much of our forest to the emerald ash borer. It seems the hemlocks will go next. Other blights are threatening other tree species, as well. So often the story with these blights and invasive species includes the fact that they spread more readily and the infestations are more intense when the winters are milder and shorter. I dread the day we lose the hemlocks, but I know it is coming. Our landscape will be permanently changed. While your committee may be primarily concerned with the physical impacts that people across the country are experiencing from climate change, I think it is important to understand the emotional impacts, as well. I am a high school teacher. I teach environmental and sustainability topics in my classes. I recently asked students in my school to complete an anonymous survey about how they are thinking about climate change. Many of the responses indicated worry, fear, anger about the world they will be living in in the future, and deep frustration with a system and a government that seems unwilling to take significant action. I share these feelings. I think about this every day. I worry about the world my niece and nephew will inhabit. I grieve the impacts climate change is already having on many of the most vulnerable populations in the world. These are real emotions and they take a toll over time. I ask you to take action. Use the power you have to move the needle on this issue. Time is short and the stakes are high.
Anthony from Wisconsin
I have two grandkids aged 6 and 2. I no longer know what to tell them about their future. They will be living their adult lives on a much more dangerous planet, and we are the generation that caused most of this climate change, and we seem to be the generation that is doing nothing about it. What do I tell them?
Katherine from Colorado
I see the news of the wildfires in California and the terrible heat in Australia, and then the floods. I grieve for the people in Central America whose farms no longer produce because of the changing climate. I see the photo of the Mendenhall Glacier that I took years ago and cry on viewing its demise in photos today. I know how the Colorado and "my river" that flows into it (the Eagle) have diminished over the years. I read of the animals on mountainous islands that are dying because they cannot go up any higher to get cooler. I grieve for the whole herd of wild horses in Australia that simply died from the heat and drought. I grieve for people all over the world faced with the extremes of weather. I understand that with our droughts, the danger from wildfires in my county have grown yearly. However, one does not have to actually be in danger to understand the terrible consequences of climate change. I am sickened that we still have leaders in this country who either do not care or are incapable of understanding what is happening.
Eileen from California
Climate change has caused a horrific drought, raised temperatures higher in hotter places and made colder environments like the Midwest even colder. I can't remember a time when the climate was so unpredictable or so extreme - both hotter, colder, wetter, drier. It just takes common sense to know that if we don't do something about climate change, our earth will be destroyed. I am a senior and perhaps I won't be as drastically affected as the younger people. But the younger generations coming up deserve a clean planet, one without extremes. Please do all you can to protect the one planet we have to live on.
David from New Mexico
My property is adjacent to the ruins of an ancient Native American settlement. When I first came here, six years ago, the trees and brush in the ruins and on my land were literally teeming with various birds. I'd see coyotes nearly every day and bobcats frequented my patio, and mule deer would move through on a fairly regular basis. The thousands of birds I'd see every day are now noticeably diminished, their flocks much smaller. This condition does not affect my pocket book or impact me in any immediate way, except that I often feel diminished inside because of this obvious desecration of the ecology, and my heart or spirit or whatever it is that moves me, now seems altered, reduced and on the verge of disappearing.
Mary from California
I am a wildlife rehabilitator in Los Angeles, California. I rescue ill, injured and orphaned wildlife for release back to the wild. I've been doing this since 2001. The wildlife seem to be reacting to the environment. We are getting orphans earlier and earlier. Some wildlife are breeding, giving birth during the entire year instead of just spring or summer. We used to get baby Fox tree squirrels in early February. Now they come two months earlier in December. Baby season used to end around October. Now it seems to be year-round.
Linda from Massachusetts
I live just over a mile from the ocean with marshy areas closer. This past year for the first time ever I have seen the water in those marshy areas, about a half mile from my house, come up to within inches of the street with large street flooding at the oceans edge. A favorite beach, I love for long walks along the shore, as a much younger person was icy cold and uncomfortable for me. Now my long walks are in the water. It is lovely but always seems unnaturally warm compared to my memories. This past summer I saw a jelly fish washed up on the beach unlike any I have ever seen around here. Maybe normal or maybe not. I know we have great white sharks quite often now off the MA coast which was unheard of years ago. My stories may not seem all that dramatic but I believe they tell the story of a changing environment.
Katie from California
Last July on a freakishly hot night that broke records across southern California and that was attributed to climate change with 99% certainty, a fire suddenly broke out in our neighborhood due to hot winds, the likes of which I've never felt before, that pushed flames toward us rapidly. It was one of the most terrifying moments of my life. We ran out of the house with nothing, and no time to prepare, and fled. Our house survived with minor damage, but that anguishing night most of the houses on our street burned down. I look out at the foundations of five burned out houses as I write this.
Susan from New York
In my hat as a Psychologist and member of the Resilience and Emotional Support Team (REST) of the NYC Dept. of Health and Mental Hygiene, I was deployed to a temporary shelter in Manhattan shortly after Superstorm Sandy in 2012. My role was to provide emergency mental health services to those who sought shelter. A memorable story that has impacted me is the story of a 15 year old girl who was at that shelter with her mother and younger sister. They had moved from the Bronx to a family shelter in lower Manhattan shortly before Superstorm Sandy. The sisters started new schools just before Superstorm Sandy. But soon after that big change in their lives, Superstorm Sandy forced them to leave that shelter in a hurry. She wondered whether or not to tell the truth to her new peers at her new school about the fact that her mother had lost her job and that they had been evicted and had to move to a shelter in Lower Manhattan, leaving all her friends and family behind. When I met her, she and her mother and sister had just evacuated their new home/shelter because of Superstorm Sandy. As a Psychologist, I will never forget the impacts of climate change on that family who had already suffered considerably before Superstorm Sandy. I still wonder how she and her family are doing. I know that they will never forget the huge disruption to their lives from Superstorm Sandy just after being evicted from their home in the Bronx. How many others have suffered big disruptions do to climate change? How are we helping them?
Elliot from Michigan
I grew up in Northern Michigan. It's a beautiful place where nature is a big part of life. I grew up hiking in the woods, cross-country skiing in the winters, and swimming in Lake Michigan. With climate change, a lot of my cherished childhood experiences will be impacted. A couple of winters ago, my town hosted the state championship for Michigan Nordic skiing. It was a really exciting time for our town. February is the heart of winter in Michigan, but when the meet came around, it was 50 degrees and we barely had enough snow to ski on. Climate change is really important to me and the memories I have from my childhood. I believe a revenue-neutral price on carbon pollution is the best way to address climate change quickly while also keeping the economy growing.
Deborah from California
After living in Alaska for 37 years, I experienced many of the significant impacts that climate change has had on our country's most northern state. With respect to impacting me directly, climate change caused massive spruce bark beetle outbreaks, which killed all of the mature spruce trees around our cabin overlooking the Matanuska Glacier. Each year, through our cabin window, we saw the Matanuska Glacier shrink, in width, depth, and length. We also saw the dramatic loss of glacial ice in numerous other areas of Alaska, including Portage Glacier (near Anchorage), Kenai Fjords National Park, and Glacier Bay National Park. With respect to Portage Glacier, we used to take all of our visitors there to see the glacier and glacial icebergs on the lake. The Forest Service built an extremely popular visitor center there for glacier viewing. Within a few decades, the glacier could no longer be seen from the visitor center, having retreated substantially.
The massive fires in Alaska and elsewhere made breathing difficult on many summer days, especially for my mother. We had to buy several air purifiers for her home. As winters warmed, snow turned into ice and many of my friends slipped and broke bones on the treacherous sidewalks, roads, parking lots and driveways. As a family, the amount of snow available in Anchorage for cross-country skiing diminished substantially, and Nordic ski opportunities for youth decreased, including for my son. Less snow adversely affected the economy.
I traveled throughout Alaska extensively, including visiting the heavily impacted villages of Shishmaref and Newtok. With great empathy for their plight, I worked with many Alaska Native leaders to try to help find funding for the costs of relocating these villages due to climate change. Hearing their stories was heartbreaking, especially since they are blameless victims. Flying over Alaska I saw drying and dried lakes, ponds and rivers; I saw burning tundra (previously unheard of); I saw the shrinking polar ice cap; I saw dying trees and the vast damage from huge fires; and so much more. Two and a half years ago, I moved from one front-line of climate change (Alaska) to another: Goleta, California. Since arriving here we have experienced numerous massive fires and a deadly debris flow. We had to evacuate my son, who lives in Santa Barbara; and the Holiday Fire came very close to our house. As a lecturer at UCSB, finals week had to be cancelled and rescheduled because of the unhealthy air quality from the huge Thomas Fire (the largest in California's history at that time). Like others, I had to wear a mask for a considerable amount of time when going outside because of the unhealthy air.
One of my student's homes burned completely down in the Woolsey Fire last year, and 88% of an extraordinary unit in the National Park Service, the Santa Monica National Recreation Area, also burned as a result of this fire. Santa Monica National Recreation Area is a place we used to hike in, but many areas remain closed. Our local beach, Goleta Beach, has been increasingly eroded, and was closed for a long time to take the polluted dirt from the tragic Montecito debris flow. Although we have resisted it, the increasingly hot summer temperatures will likely require us to install air conditioning. We will increase the number of our solar panels to cover the additional energy use, but this will all be very expensive. Climate change, in general, is very expensive. At UCSB, my students complain about being hot, and studies show that performance and learning are decreased under hot conditions.
Life disrupted. Increased costs. Personal tragedies. Environmental destruction. I have experienced and witnessed all of these because of climate change.