Ranking Member Grijalva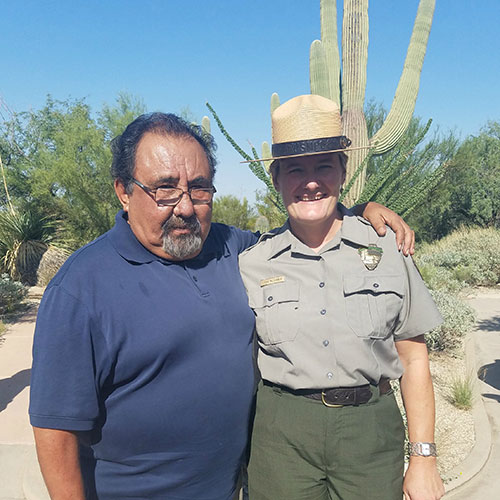 Ranking Member and Chair Emeritus Raúl M. Grijalva (D-Ariz.) has been a conservation leader since his time on the Pima County Board of Supervisors, where he successfully championed the landmark Sonoran Desert Conservation Plan to protect the fragile Sonoran Desert ecosystem from overdevelopment. The plan, which the Friends of Saguaro National Park called "visionary" and "exemplary," has steered endangered species protections and land use planning in Southern Arizona for more than a decade and has provided a model for other communities to follow.
After leaving the Board of Supervisors and winning his seat in Congress in 2002, Rep. Grijalva joined the House Natural Resources Committee and became one of Congress' most outspoken champions for endangered species, wilderness, national parks, public lands, and stronger oil and gas regulations. He authored the National Landscape Conservation System Act and the Federal Lands Restoration Act, both of which President Obama signed into law as part of the Omnibus Public Land Management Act of 2009.
When Democrats won control of the House in 2018, Rep. Grijalva was elected Chair of the Committee after serving as Ranking Member for four years. During his chairmanship, Chair Grijalva brought climate action, environmental justice, Indigenous affairs, and the decolonization of U.S. Territories to the forefront of the national political stage.
Some of the Committee's most celebrated accomplishments under Chair Grijalva's leadership include:
Passing the Great American Outdoors Act into law, which permanently authorized the widely popular Land and Water Conservation Fund.
Championing major ocean and climate action wins through passage of major legislation, like the Inflation Reduction Act, the Infrastructure Investment and Jobs Act, and the National Defense Authorization Act.
Passing the Environmental Justice For All Act, the most comprehensive environmental justice legislation in history, through the Committee.
Holding the first congressional hearings in history on issues critical to Indian Country, including Missing and Murdered Indigenous Women, Indian Boarding Schools, tribal co-management of public lands, and his tribal consultation bill, the RESPECT Act.
Passing the Puerto Rico Status Act, which will grant the people of Puerto Rico the opportunity to determine their own political status future, through the House.
Leading the defeat of the "Dirty Deal," which intended to attach a permitting policy rider curtailing public input to must-pass legislation.
Returning to his role as Ranking Member in 2023, Rep. Grijalva remains one of Congress' top advocates for climate action and solutions, environmental justice, protecting our open spaces, defending tribal sovereignty and treaty rights, and respecting our bedrock environmental protections.